AIASIA TECHNOLOGY DISTRIBUTION SDN BHD (JB)
04-31, Skudai Parade
Shopping Complex,
Batu 10, Jalan Skudai,
81300 Skudai, Johor,
Malaysia.
AIASIA TECHNOLOGY DISTRIBUTION SDN BHD (KL)
Lot 3, Block B,
Subang Light Industrial Park,
Off Jalan Subang 2,
USJ 1, 47610 Subang Jaya,
Selangor, Malaysia.
AIASIA TECHNOLOGY DISTRIBUTION SDN BHD (Perak)
14, Jalan Medan Ipoh 9,
Bandar Baru Medan,
31400 Ipoh,
Perak, Malaysia.
+6016-6605699
Fingertec OFIS-Z

Integrate with WindowsBased Solutions
Use the OFIS-Z client with existing 32-bit and 64-bit Windows-based solutions as a higher level of security login instead of merely passwords, which are less reliable.

Password Free
With the amount of online accounts available, remembering passwords can be a hassle. Reduce some burden from your staff by using fingerprints as a password for internal systems.

Manage Your Own Application Securely
With the OFIS Server, you get 6 OFIS-Z clients for setting up your own application, integrating fingerprint solutions for either security control, or for an online attendance solution.

Integrated Programming Language
OFIS SDK supports the common programming languages such as VB, MS VC++, Delphi, MS ASP, VB.NET, ASP and etc, as well as comes with several written sample applications.

Centralized Fingerprint Database
Capture the users fingerprints and centralize them in the ODBC compatible database for easy remote identity verification.
Easy Integration
The program interface of the OFIS software uses Active X, enabling an easy integration of FingerTec with a third party system.

Precise Recognition
The OFIS-Z reader uses minutiae matching technology with the latest VX10.0 algorithm instead of fingerprint image scanning, ensuring that important fingerprint information cannot be stolen and duplicated.

Plug & Play
The OFIS-Z reader is small and portable, much like a desktop mouse which means no more clutter and no more hassle!
LAYOUT PLAN
Online Fingerprint Identification Environment
For illustration only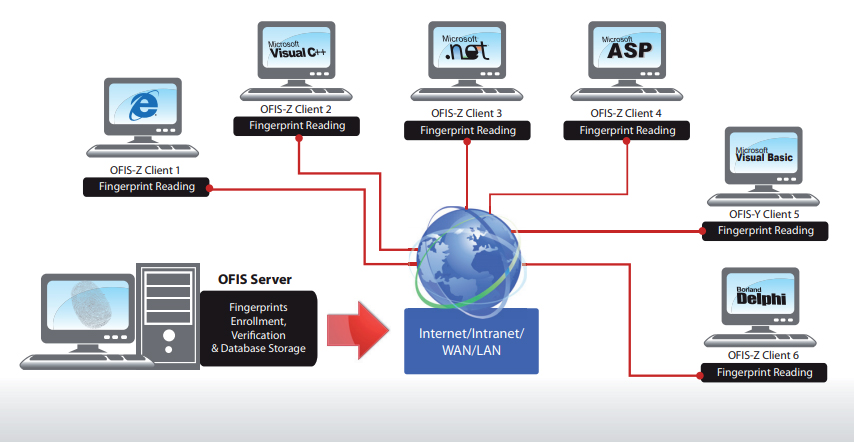 MINIMUM SYSTEM REQUIREMENTS
OFIS-Z Server Module
(For Online Identification)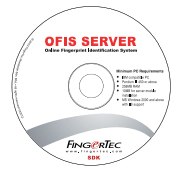 •
•
•
•
•
•
•
IBM compatible PC
Pentium III 450 or above
256MB RAM
15MB for server module installation (Storage varies upon the number of fingerprints stored)
Standard mouse and keyboard
MS Windows XP and above with IIS support
OFIS-Z Client Module
(For Windows-Based Solutions & Online Identification)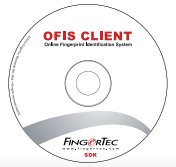 •
•
•
•
•
•
•
•
IBM compatible PC
Pentium III 450 or above
64MB RAM
5MB for client module installation
Standard mouse and keyboard
1 x USB port for FingerTec OFIS-Z Scanner
MS Windows XP and above with Internet Explorer (IE 6)
SPECIFICATIONS

• MODEL

OFIS-Z

• ALGORITHM

BioBridge VX 9.0 / VX 10.0

• SUPPORTING OS

32/64-bit Windows XP, Windows Vista, Windows 7, 8, 10 and Server 2008

• PIXEL RESOLUTION

512 dpi (average x, y over the scanning area)

• SCAN CAPTURE AREA, MM

15 x 18

• SCAN DATA

8-bit of grayscale (256 levels of gray)

• READER SIZE (APPROXIMATE) (L X W X H), MM

45 x 78 x 40

• COMPATIBILITY

USB 1.0, 1.1, 2.0 (Full speed) specifications

• OS/BROWSER

MS Windows/ MS Internet Explorer (IE 9)

• POWER SUPPLY

5.0V +/- 0.25V, USB supply

• OPERATING TEMPERATURE (°C)

0 ~ 55

• OPERATING HUMIDITY (%)

20 ~ 80 non-condensing

• STANDARD FCC CLASS

FCC Class B, CE, USB

• USAGE

Indoor, home and office use

• SOFTWARE

info Manager
Brouchure: https://cdn1.npcdn.net/attachments/15547096200af13fd259011654fa8e50c31a31187f.pdf